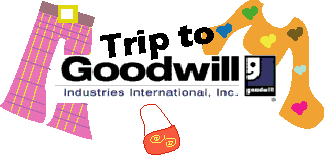 March 9, 2002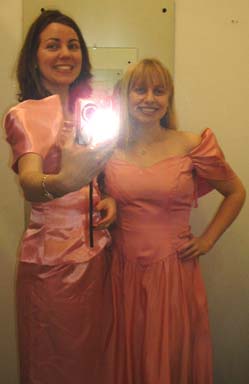 We love visiting GW Boutique whenever we get the opportunity! It is a greatly undiscovered world of fashion waiting to happen! Here we model two pink prom dresses from...the 80s? Too bad we didn't come across these when we were shopping for our Senior Ball!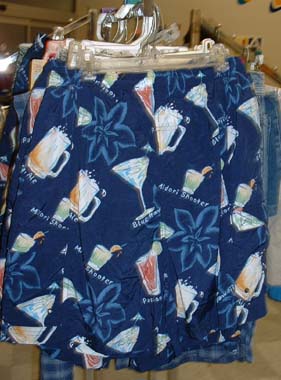 Aren't these swimming trunks H-O-T!? Inspired by tropical drinks, GW offers these little numbers in a variety of sizes!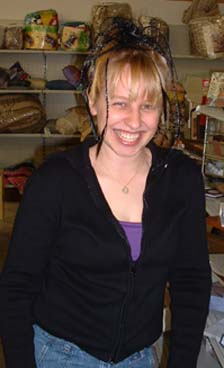 In the Home and Beauty section Carrie discovers another fake hairpiece! (She already owns a small collection). This one however is black, which doesn't exactly match her hair color...better luck next time!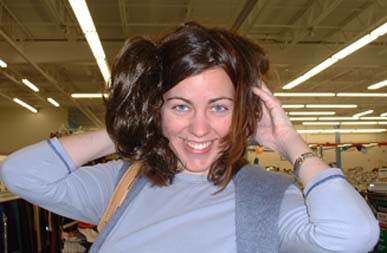 What a find! Don't confuse the large lump of hair growing out of the side of my head as some kind of cerebral mutation; I model a clip on hair attachment that almost perfectly matches my real hair color!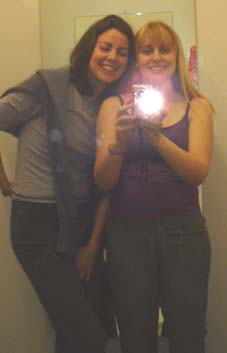 Carrie and I come across two hot pairs of pants. This picture does not do them justice. Carrie hides her pair in a secret GW department so that she can return to the Boutique and purchase them at a later date. ¡Qué motifa! The flash of the camera in the mirror symbolizes the immediacy, excitement and raw creativity involved in changing out-dated styles into über-modern fashion! (Never a challenge for true Queen Motifas!)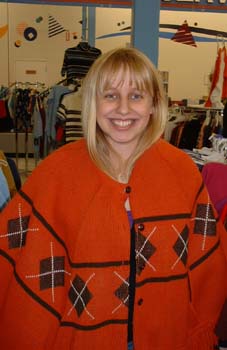 Supermodel Carrie Stop styles in this custom-made orange fringed poncho with a lovely brown and white argyle decoration. This item can be yours for just $2.99!!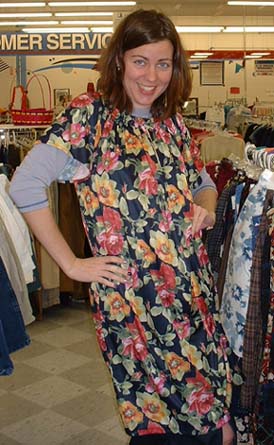 Oh, baby, Oh! This lovely flowered polyester house-dress is a rather sexy number; the elastic neck allows for an off the shoulders effect for those days when you pretend you're house cleaning in the south Pacific.