Thanksgiving in Liguria 2005

Imperia, Liguria, Italy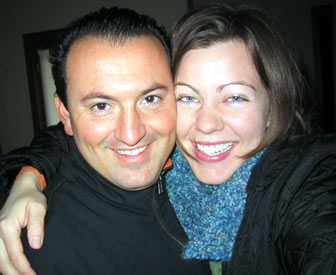 I finally manage to get a weekend off of work and Luca and I decide to make a trip to the Sea!
We depart from Piemonte and head to Imperia in the province of Liguria to spend some quality time by the salty waters.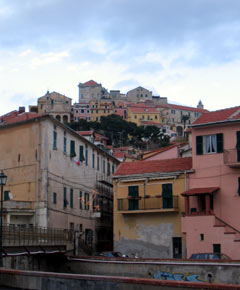 Saturday morning we spend in town at the market. There are little stands set up all along the harbor and in the alleyways that wind through Imperia.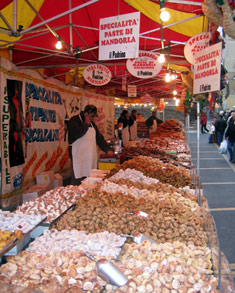 A Quick Note on Breakfast in Italy
Breakfast in Italy is an espresso and basta [that's it]). I've always been a big fan of breakfast and have never been a coffee drinker, so this ritual of skipping the most important meal of the day is obviously not one of my favorites. However this particular morning it was rainy and cold and Luca and I agreed that it would be a good idea to stop for something a little more substantial. (He ordered an espresso, I took a cappucino, and we both got brioche (a crossaint filled with marmalade, pastry cream or chocolate).
I have to admit that I'm starting to enjoy the 6-coffees-a-day routine here. The norm is to drink espresso black, but I just can't swallow that toxic caffeine straight up. So for now I continue to douse my coffee with as much milk and sugar as will fit in the dinky cup and put up with the sarcastic remarks. (For example: "Oh, I see you're making a nice little soup there, Bon Appetito!") I have to admit that I'm starting to appreciate the bitter stimulant more than I ever imagined I would.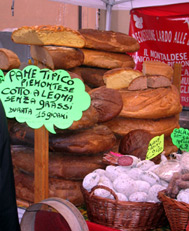 A Bread Story
These are huge pieces of typical Piemontese bread. One whole bread is four or five feet long and one foot high. The bread is cooked in a wood-fired oven and contains only flour, water, salt, and yeast--no fat. I stopped to buy a chunk while waiting for Luca to get back from an errand and the vendor offered me a sample of champagne. I was rather thirsty and so accepted his little glass of champagne. Unfortunately it was disgusting and I left a little sip in the bottom of the cup. When I handed the glass back to the vendor to throw away, he swigged down the rest of what was left!!! Che schif! How gross!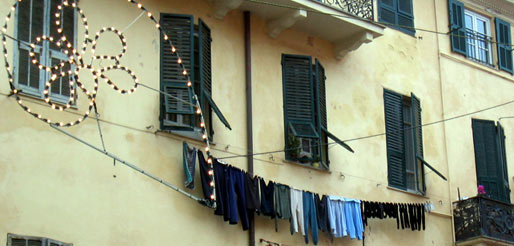 Because electricity costs so much in Piemonte most people choose to air dry their clothes rather than paying for a dryer and the electricity it requires to run. I can imagine how much fun this person must have had pinning up each sock individually and then having it start raining!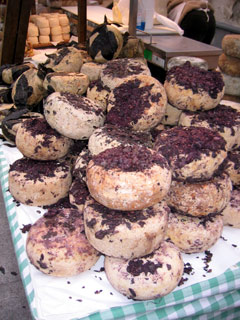 This is a cheese called testün (pron. test-EWE-nn). It's covered in the must (skins & stems of grapes) that's left over from wine making.
One of the great things about Italy is that it's full of artisinal workers who are proud of what they do. So at these markets for example, everyone calls out to you to come and taste whatever delicacy it is they make. (Meno male! Not bad! Sweet deal!)
Because it was raining heavily I stepped underneath a cheesemaker's tent to fare an occiata (take a look around). Read: do a free cheese tasting. I really only wanted to taste one 100% goat cheese that looked interesting but ended up tasting six others as well. Unfortunately I chose to stand right underneath the gutter of this cheesemonger's tent and right as I took a bite of an extra soft cow's milk cheese the entire morning's rain collection got dumped on my head!! Isn't that a nice surpise!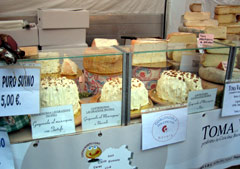 Big cakes of soft gargonzola cheese.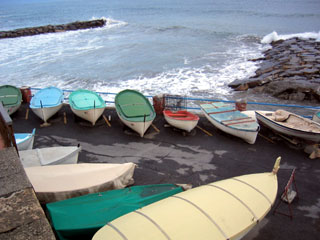 Sailboats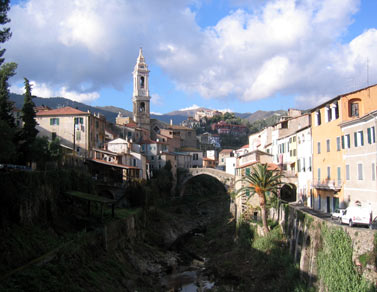 The next day we go for a drive in the mountains. Here are some images from our drive: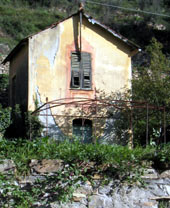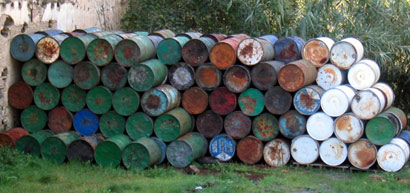 A praying place.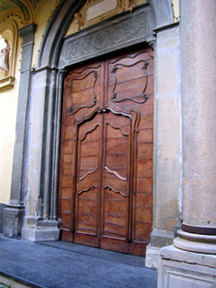 Church door.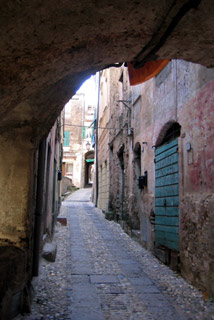 Two-way street.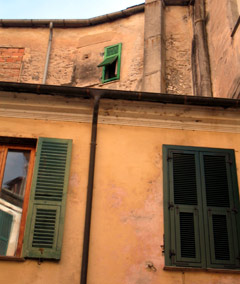 Green shutters.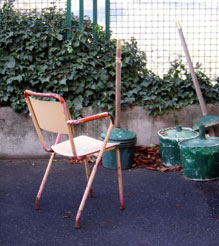 Ready to enjoy the view.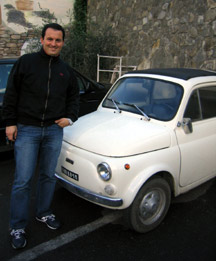 Mini Cooper.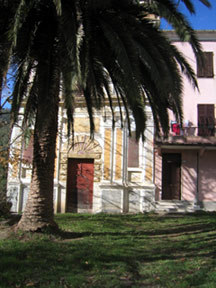 Shady Palm.
Orange alleyway.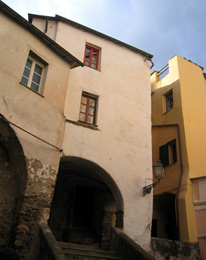 Windows.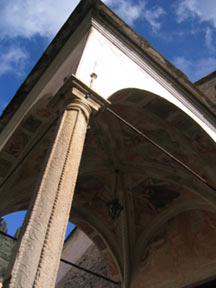 Arch.
Then we stumble upon a town in which all the doors are painted differently.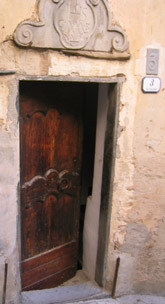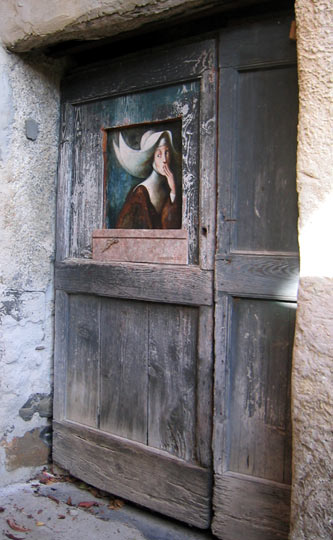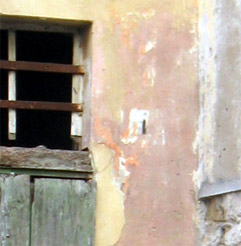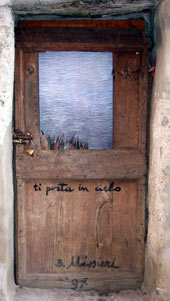 "Ti porta in cielo" is painted on this door; a play on words.
Literal translation: "It brings you into the sky or He brings you to heaven." Porta is also the word for "door" in Italian.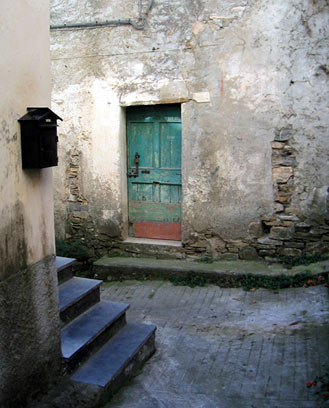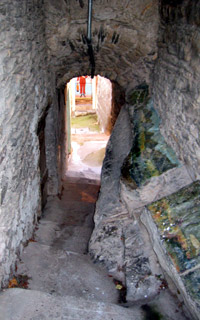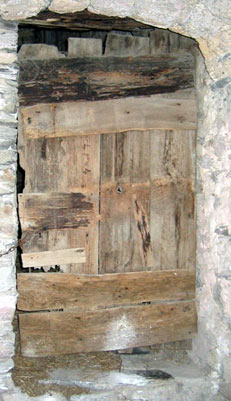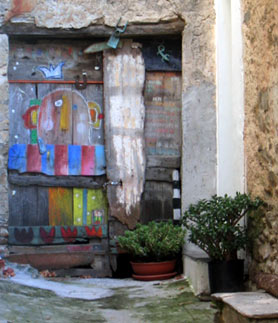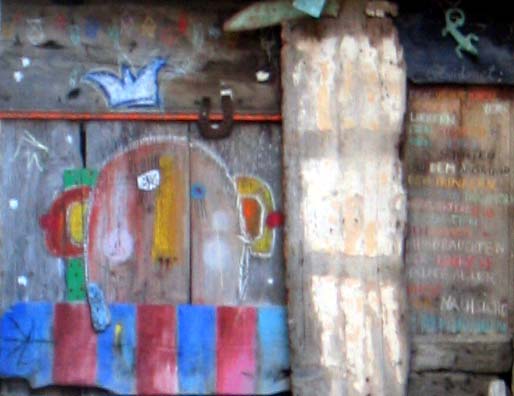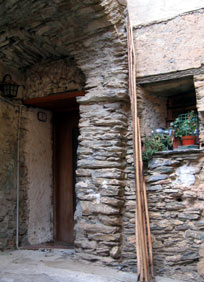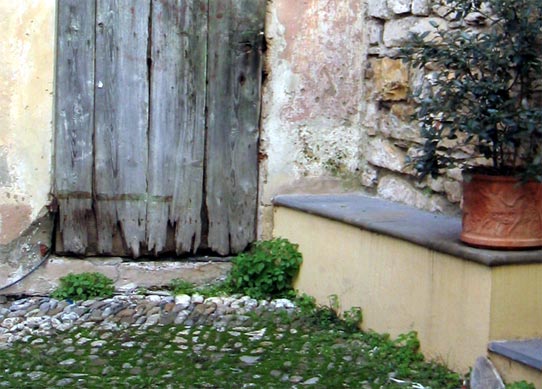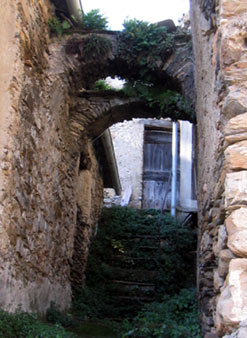 For anyone interested in moving to the village of the painted doors, this place is for sale.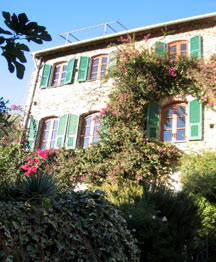 We head back down the mountain and stumble across this agriturismo where there is just enough space left in the dining room for us to have lunch. The menu is fixed, which means that you get everything whether you like it or not. There are six antipasti-- five of which have potatoes as the main ingredient. (Ligurians are known for being a little tight and this is a good example of it--substituting potatoes for meat. The antipasti are followed by two primi (pasta dishes), two secondi (meat dishes) and two desserts. Oh my lord. We seriously have never been this full in our life. There seriously are potatoes coming out our ears.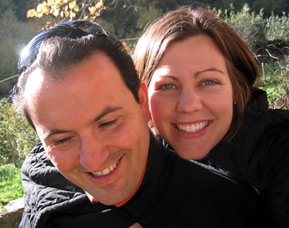 But boy is it nice to be at the sea!